The The SP298 is the ideal Printer for prin "company branded" pre-printed multi- slips/forms.
Inmanyhotels,ownersusedthesa printed form through the bar, the reception, restaurantorgiftshop.
The SP298i sworldfam for its "tab" capability: additional items (drink desserts) can be Printed as ordered, due to auto alignment and positioning feature.
Typical Applications
Hotels
• Use the same pre-Printed document
throughtout the hotel
Restaurants
• "Tab" features
POS
• Worldwide famous in gas stations, stores &banks
Retail Bank
• Check Validation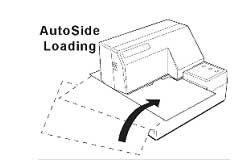 he Printer features unique paper AutoSide Loading™ making document loading quick, easy and reliable. The useran simply introduce a form into the side of thetation and the Printer performs automatic documentlamping, instant top of form alignment, fast Printing andelectable forward or reverse document eject.